Late Dr. Arunasalam Somasundarampillai was a Chartered Accountant and a former member of the Governing Council of the University of Jaffna. I have known him for well our four decades in Point Pedro, his place of birth and residence, Thunnalai where he married (nee) Leela Kulaveerasingham and in Jaffna town where he set up his own and Audit firm administered the Merchant Finance Ltd and in the University of Jaffna.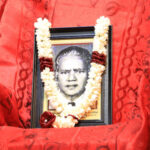 Dr. Somasundarampillai was the Charter President in the Lion Club of Point Pedro and the Chairman of Lions Club International Zone. He was also a supporter of a variety of social trusts and humanitarian organizations. He donated a significant portion of his money to such worthwhile initiatives. The degree of Doctor of Philosophy, Honour in Causa, was awarded by the University of Jaffna to him as an appreciation of his many achievements in his profession and his commitment to University administration in 2004.
Prof.(Mrs). Rathiranee Yogendrarajah, Head/ Department of Financial Management, Faculty of Management Studies and Commerce delivered the late Dr. Arunasalam Somasundarampillai memorial oration on the title Role of Financial literacy in achieving women's financial inclusion and the strategies to improve financial inclusion among women on 16th November, 2022 at 3.00pm the Kailasapathy Auditorium, University of Jaffna.